Details

Published on Tuesday, 05 February 2013 13:52
Hello!
Graphical Installer for Inno Setup - v3.3.01 (Katka) was released!
New release of Inno Setup (5.5.3) contains several important fixes and new features (see full list here) and our tool reflects these changes.
There are huge fixes in Graphical Installer Wizard (v1.2.01) and more!

Since this version if you purchase Graphical Installer you will receive the archive with last two versions of GI.

Example: If you purchase v3.3.01 (Katka) in the .zip archive you receive you will find two installers:
Graphical Installer for Inno Setup v3.3.01.exe (Katka)
and
Graphical Installer for Inno Setup v3.2.01.exe (Julka)
You can choose which version to install - but of course only one!

We decided to take this step as many customers still do not use the latest version of Inno Setup and they do not want to upgrade to latest one. So they can install older version and if they update the Inno Setup they can also update GI without any problems.
Major changes:
Support for Inno Setup 5.5.3
Graphical Installer Wizard v1.2.01:
- support for Themes
- fixed Alt key press bug (Windows XP, Vista, 7, 8)
- context sensitive help
New application BitmapCutterGUI.exe (v1.0.0.1):
- Windows application for creating background images
BitmapCutter.exe version D (1.1.01):
- colored output
- new option '-g' for BitmapCutterGUI.exe

Minor changes and fixes:
See enclosed documents (Readme and Changelog) for more details.
New application: BitmapCutterGUI.exe: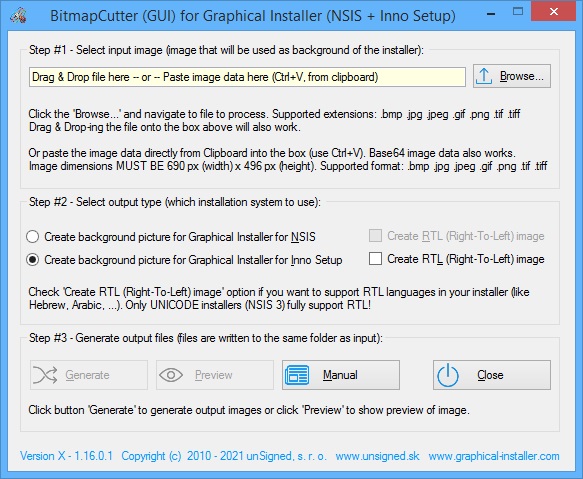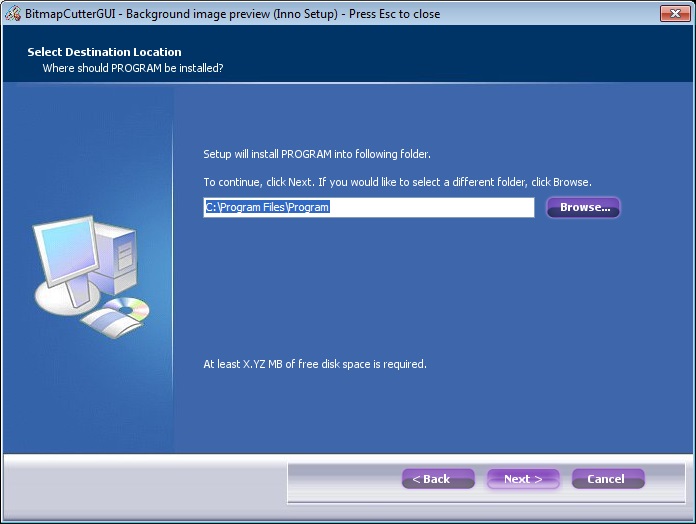 Do not hesitate and visit the Purchase page where you can find full featured Try-Out version! (with free email support for one month!).
unSigned Softworks team